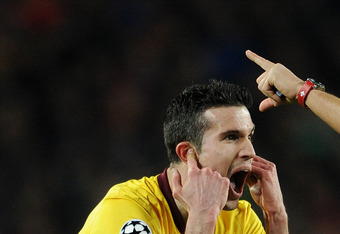 Van Persie exclaims that he could not hear the
whistle over the noise at Nou Camp
Today's second leg match between Arsenal and Barcelona was quite eventful. Arsenal came into Camp Nou with a 2-1 advantage on the aggregate score from the game before in London. Arsenal received what would seem as a crushing blow at the start of the when their goalkeeper Szczęsny left the field with a hand injury. Their backup Almunia, who only had a few FA Cup starts, stepped up and served the team well. He made a total of 8 saves from over 10 shots on goal from the opposing team.
Jack Wilshere made a grand effort for his side, the 19 year old strongly challenged and won the ball on many occasions against the some of today's greatest players such as Messi for example. He even confronted and got in Dani Alves' face after he was tackled at one point in the game. He's a very passionate player. This kid is already keeping up with the best of them and even has a few Senior England National Team caps. He did a good job distributing the ball down the sidelines especially to Nasri.
However Pep Guardiola doesn't think he's anything special.
"Wilshere is a top player, he is an excellent player, not just Arsenal, but also for the national team.

[But] he is lucky because we have many players in the second team like him but he plays because there is no pressure at his club to win titles."
Arsenal was without Theo Walcott, however Barcelona was also without key defender Carles Puyol. Both sides held their ground until things took a turn for the worst for the Gunners. Barcelona got on top with a goal by Messi at the end of the first half. Then Sergio Busquets evened it up scoring for his opponent from a corner kick by way of an accidental header. Van Persie later received a yellow card in the 55th; consequently sent off the field since it was his second of the match. He was very undeserving of the red card he received for shooting the ball towards goal one second after the referee blew the whistle for the offsides call against him. Yes, ONE SECOND. He was in no way trying to run the clock. I believe he genuinely could not hear the ball over the thousands of screaming fans at the Nou Camp. He's what he had to say about the referee's call:
"It was a total joke, the sending off, because how can I hear his whistle with 95,000 people jumping up? How can I hear that, for God's sake? Please explain me that."
And Arsene Wegner's opinion:
"I think two kinds of people can be unhappy: those who love Arsenal and those who love football can be frustrated with the referee's decisions. When he made the decision it was a very promising game, very interesting. That's the regret."
"

People who have played football

will never accept a decision like that. It killed a promising, fantastic football match. What for?"
Here is the red card decision. I decided to record it myself to show how upsetting it was. Though the whistle can be heard on this play, I can distinctly remember not hearing the whistle on a few other plays. See for yourself, what do you think of this garbage play call?
Barcelona no doubt controlled the game, in fact Arsenal did not have one shot on target. The Gunners played them hard but they lost the possession game (68 to 32 percent) to their opponent as well as a key player halfway through the game. It was a sad day for Arsenal fans. Barcelona went on to win 3-1 with a beautiful through ball to Xavi Hernandez and with a penalty again by Messi leaving the aggregate at 4-3 for them. First the FA cup, now the Champions League, there's only one hope left for the Gunners, the Premier League to salvage their trophy drought.
Watch the full highlights below. The goals go as follows: Messi (45' + 3'), Sergio Busquets (53' OG), Xavi Hernandez (69'), and Messi (71' PEN).
UPDATE 3/10/11: I apologize for the music on that video. It's not mine and the original video was taken down.